Table : TCCH-ABS
PDF Files
Folding table
made of ABS
Our ABS folding tables receive a high rating from our customers for several reasons.
High-impact ABS surface is strong, light and durable. ABS top surface also withstands greater heat than competitive plastic tables on the market. C-shaped gravity lock is durable, safe and easy to use. It will not bend in the folding mechanism like competitor's tables.
Extra strong metal-to-metal leg attachments provide maximum holding power and makes sure that screw holes won't strip, which can happen with tables that screw into melamine or plastic.
Shockproof corners defies damage upon impact from 2 ft. vertical corner drops. Rubber bumpers protect tables when stacked and keep tables in place on dollies.
The table holds a ton ; 2000 lbs, evenly distributed.
The concentrated weight of 500 lbs in a 24'' x 24'' area, is easily supported.
Honeycomb core
Sonically welded edges
Molded corner cover
Steel internal support structure provide
unprecedented weight bearing strength
.080 thick co-extruded ABS top shell
.095 thick co-extruded ABS bottom shell
Edge extrusion
Top shell color : Sand
Folding legs color : Black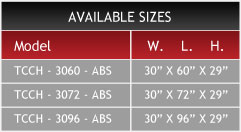 Carry-all also available
Immediate delivery
Contact us.