Tables
Open, fold, stack and you're done!
Setting up or disassemble an event must be simple, fast and efficient. Our folding banquet tables or high bar tables are designed to be practical, strong and versatile. Whether for a banquet, a reception, a meeting, a conference or any other event, their uses are as plentiful as your needs and will certainly serve you admirably.
That's why we offer a variety of solid and practical table styles to suit your specific needs: restaurant tables, bistro tables, banquet tables and folding tables in many shapes and sizes.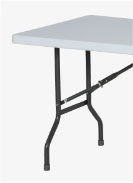 Table : TCCH-HDPE 2
Our folding plastic banquet table HDPE 2 will please you with its many practical advantages and is suitable for many types of events.
More details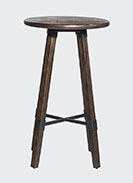 Table : KONO Collection
Vintage industrial furniture, bar style, solid wood (elm), walnut tint and metal frame for more strength
More details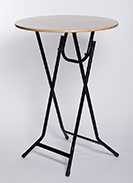 Table : TCCH-PLY-30OD-SBFT
Russian birch plywood table top ¾" thick x 30" diameter varnished, with heavy duty folding leg.
More details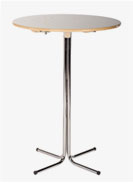 Table : TC-30OD-COCK-PLY-V
Cocktail bar height table with a knocked down table base. Russian birch, 30"diameter, Chrome finish. Easily stored in a restrained space. Also used as a cocktail height dining table.
More details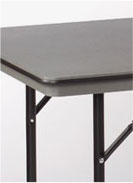 Table : TCCH-DELITE
Our folding banquet tables, are offered in several  forms, sizes and height. Round or rectangular, bar height or regular, several sizes are available.You can refer to our PDF pamphlet on available sizes or contact us.
More details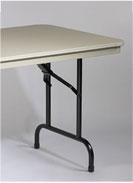 Table : TCCH-ABS
Folding table made of ABS. ABS top surface also withstands greater heat than competitive plastic tables on the market.. Extra strong metal-to-metal leg attachments provide maximum holding power and makes sure that screw holes won't strip, which can happen with tables that screw into melamine or plastic.
More details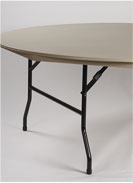 Table : TCCH-ABS-RONDE
Round table made of ABS. Honeycomb core. Sonically welded edges. Steel internal support structure provide unprecedented weight bearing strength. ABS top shell. Rubber bumpers protect tables when stacked and keep tables in place on dollies.
More details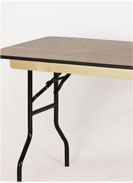 Table : TCCH-PLY
Plywood banquet table
With bolts
Carry-all also available
Immediate delivery
More details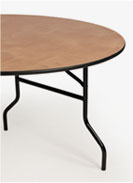 Table : TCCH-PLY-RONDE
Round plywood banquet table
With bolts
Carry-all also available
Immediate delivery
More details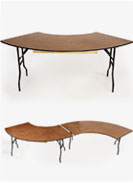 Table : TCCH-SER
Serpentine plywood banquet table
With bolts
Carry-all also available
Immediate delivery
More details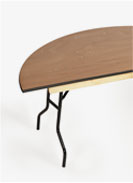 Table : TCCH-DL
Half moon plywood banquet table
With bolts
Carry-all also available
Immediate delivery
More details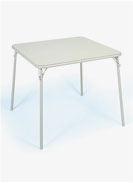 Table : TC-2251
Beige or black enamel card table
Easy to stack
Carry-all also available
Immediate delivery
More details